Kraft Your Shabbat @ Home
Even in the age of social distancing, gather with us to celebrate Shabbat the Columbia/Barnard Hillel way! Join hundreds of students, alumni, and friends to "Kraft Your Shabbat @ Home" and bring the spirit of the Columbia/Barnard Hillel community directly to you!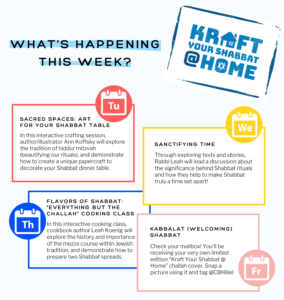 While there won't be any virtual events on Shabbat itself, join us Tuesday, Wednesday, & Thursday for several interactive Zoom Shabbat-related sessions including:
Tuesday, August 25th @ 7:30pm – "Art For Your Shabbat Table" class with Ann Koffsky
Part of the beauty of Shabbat is that it comes around every single week, but making sure that each Shabbat is unique and special helps to keep things fresh. Join Ann Koffsky, author/illustrator of over 30 books, and editor at Behrman House Publishers, to create a unique papercraft to decorate your Shabbat dinner table. Suggested materials will be mentioned via email ahead of time for those who wish to use art supplies (but the project can also be completed with household items).
Wednesday, August 26th @ 7:30pm – "Sanctifying Time" learning session with Rabbi Leah Fein
Through exploring texts and stories, Rabbi Leah will lead a discussion about the significance behind Shabbat rituals and how they help to make Shabbat truly a time set apart!
Thursday, August 27th @ 7:30pm – "Everything But the Challah: Dips and Spreads for the Shabbat Table" class with Leah Koenig
With all due respect to brisket and kugel, dipping freshly baked challah into a variety of flavorful dips and spreads is the best part of any Shabbat dinner. In this interactive, online cooking class, cookbook author Leah Koenig (The Jewish Cookbook, Modern Jewish Cooking) will explore the history and importance of the mezze course within Jewish tradition, and demonstrate how to prepare two Shabbat spreads from the global Jewish culinary canon. Recipes will be provided in advance of the class for those who want to cook along at home.