The Actualization Project (TAP)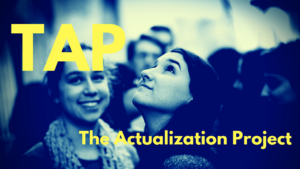 The Actualization Project (TAP) is a year-long community building fellowship that empowers students to "tap" into their unique passions and redesign the possibilities of Jewish life on and off campus.  TAP enables students to prioritize themselves while also transforming what community means on campus.  Check out the awesome communities they're building below and join in!!!
International Jewish Community (IJC) –Are you an international Jew? Do you sometimes miss your traditional food, or need a break to speak your native language? If so- we already have so much in common! Connect with other international Jewish students over delicious meals and fun get togethers! Contact Orit Gugenheim to learn more.
Kraft Class Pass – Often our health takes a backseat to other commitments, and it doesn't help that exercise classes are so expensive. Not anymore! Meet new friends and get access to awesome workouts around the city, from barre to yoga to spin class! Contact Emma Barnett to find out when the next workout is.
Do you life food?! Ever made one-hour French bread in your dorm? We do and we have! Bake your stress away, meet new friends and enjoy delicious dishes made by you! Contact Paige Moskowitz to learn more!
Life Hacks with Leora – Ever wish you could feel more "put together" in your life or school? Are you seeking that one life hack or piece of advice that could help you feel more in charge? Enjoy delicious meals and tap into your potential to be more organized and less stressed! Reach out to Leora Lupkin to learn more.
Ever feel like you don't have enough time for a break? Or an excuse to do something fun? Us too! Join us for craft nights, movie nights and in-dorm baking—just because! Contact Julia Pickel and/or Shoshana Williams to find out when the next gathering is.