Shabbat
Celebrate Shabbat with us!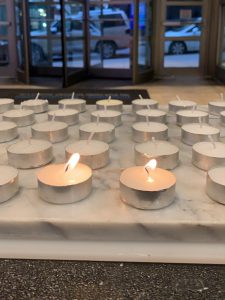 At the end of a long week, the Kraft Center is a great place to spend Shabbat!
Our community is proud to offer two weekly communal Shabbat dinners, in addition to the many meals our students host in their suites, plus special community Shabbatot each semester.
Kraft Shabbat Dinner: Kraft Shabbat Dinners take place weekly and are open to the entire community. Kraft Dinners attract a range of students, from those who celebrate Shabbat on a regular basis to those who are just looking for a nice Shabbat meal every once in awhile – all are welcome! Walk ins are welcome but signing up is encouraged so that we have enough food. Dinner is free and students can register by clicking here.
Kesher Shabbat Dinner: Kesher, our Reform community, offers a free, vegetarian Shabbat dinner every week! This small community is proud of its tradition of l'chaims, where everyone shares the best part of their week. No need to sign up – just come!
**Community Shabbat Dinner: Periodically throughout each semester, we host a special, unified Shabbat dinner for the ENTIRE Jewish community.
Other Important Shabbat Information
Columbia University Sabbath Observer List