High Holidays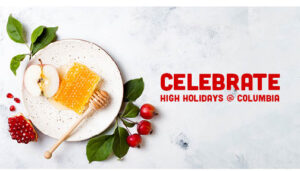 Happy New Year! This year Rosh Hashanah begins Friday evening September 18 and continues through September 20. Yom Kippur begins Sunday evening September 27 and continues onto September 28. While things on and off campus certainly look different this year, we're looking forward to ringing in the new Jewish year with opportunities to safely gather in person and virtually. 
~High Holidays on Campus~
Rosh Hashanah dinner (September 18) and lunch (September 19) are offered free of charge to Columbia/Barnard undergrads. For dinner, grab your meal to go with the option of eating outdoors on campus with a cluster of friends. For lunch, meet us on campus for an individually wrapped picnic lunch.

Click here to sign up for dinner and/or lunch

!
Services: We're excited to offer an array of opportunities for those looking to engage with prayer and reflection for the High Holidays. Register here now!
Tashlich Ritual:  What are you letting go of so you can enter this New Year refreshed, as your best self? Take a walk with us to Riverside Park to symbolically "cast away" your misdeeds, mistakes and bad habits in a beautiful ritual called Tashlich.  We'll meet outside the Kraft Center and walk to the riverfront in Riverside Park together on Friday, Sept 25th at 3pm.  Or, meet us directly at Riverside Park at 106th St at 3:30pm.  Email Rabbi Leah with questions.
~High Holidays @ Home~