High Holidays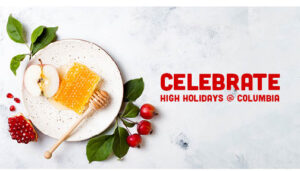 Happy New Year! This year Rosh Hashanah begins Monday evening September 6th and continues through September 8th. Yom Kippur begins Wednesday evening September 15th and continues onto September 16th. We're looking forward to ringing in the new Jewish year with opportunities to gather safely. 
~High Holidays on Campus~
Meals:  Rosh Hashanah dinner (September 6th and 7th) and lunch (September 7th) are offered free of charge to Columbia/Barnard undergrads. Grab your meal to go with the option of eating outdoors on campus with a cluster of old or new friends. More details and meal sign ups coming soon!
Services: We're excited to offer an array of opportunities for those looking to engage with prayer and reflection for the High Holidays. More details coming soon!
Tashlich Ritual:  What are you letting go of so you can enter this New Year refreshed, as your best self? Take a walk with us to Riverside Park to symbolically "cast away" your misdeeds, mistakes and bad habits in a beautiful ritual called Tashlich.  We'll meet at the Sundial on Tuesday at 4:30pm and walk to the riverfront in Riverside Park together.   Email Rabbi Leah with questions.
Rosh Hashanah Care Package:  W

e want to gift you something special to celebrate the High Holidays and the beginning of a new school year! Enjoy this curated kit that will help you experience the wisdom, flavors and essence of the holiest days of the Jewish year.  You'll get a custom bullet journal, DIY rituals, sweet treats and more! Sign up form coming soon.

Join our friends at Hillel International for Higher Holidays, an epic celebration of the high holiday season.
Not sure what kind of high holiday experience or virtual service you're looking for? Reach out to Rabbi Leah and she'll help guide you.