Sukkot
Following the High Holidays of Rosh Hashannah and Yom Kippur comes the celebration of Sukkot (literally meaning huts). Relating back to the times of the ancient Israelites wandering in the desert, this holiday is a time of great joy!
Sukkahs on Campus
Around campus we have a number of these sukkot, temporary huts, erected for the week-long celebration. Barnard College puts up a Sukkah on the Barnard campus within close proximity of the kosher dining counter at Hewitt Dining Hall; many students and university community members eat their meals here throughout Sukkot. The Kraft Center's very own Sukkahs are located on the third  and sixth floor terraces – they are open as hubs of activity throughout the holiday!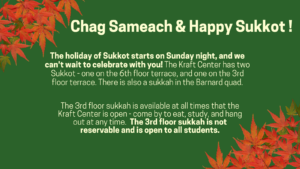 Lulav & Etrog Purchase
The agricultural undertones of the holiday of Sukkot are demonstrated by taking four symbolic species:
Lulav (לולב) – a ripe, green, closed frond from a date palm tree
Hadass (הדס) – boughs with leaves from the myrtle tree
Aravah (ערבה) – branches with leaves from the willow tree
Etrog (אתרוג) – the fruit of a citron tree
Each year, we arrange for a vendor to set up in the Kraft Center for those who would like to procure a set of the four species. The vendor offers sets at multiple price points. Sets are priced based on the measure of the etrog's Jewish legal "beautification"; all sets are perfectly kosher. Each set includes all 4 species. This year's lulav and etrog sale is now closed, but we have several communal sets around the Kraft Center – stop by if you'd like to use one!