Book Club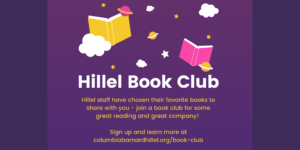 Looking for a way to connect with new and old friends and do something productive with your time? Join a book club!
Book clubs will be led by Hillel staff, who have each chosen a favorite book to share with you:
Shana: "Option B: Facing Adversity, Building Resilience, Finding Joy" by Sheryl Sandberg and Adam Grant (2017)
Option B has become one of my favorite books and something I go back to all the time. Sheryl Sandberg (you know her from Lean In and also this thing called Facebook) wrote this book with her friend Adam Grant, a psychologist, after the sudden death of her husband. They write about resilience and moving forward through difficult situations, first by simply naming that we are not experiencing things the way we wish we were (option A), but that means we're left with option B and we have a choice of how to move forward. I feel like right now we're living in an option B moment – the big option B we're all facing, and our own individual option Bs that come with how each of us is experiencing this individually in relationship to our sense of family, home, and community. Join me to learn about resilience and how to make the most of our option B(s)!
Avigail: Beach Book Club
Jealous of your mom's book club right now? Missing the books you were going to read on the beach over spring break? Well then this is the book club for you! Inspired by my moms book club we will read books that will help us escape the world were living in now and allow our brains to take a break (think thrillers, and romantic comedies). Our first book will be Verity by Colleen Hoover (currently free on kindle).
Brooklyn: "Little Fires Everywhere" by Celeste Ng (2017)
"Little Fires Everywhere" by Celeste Ng is a tale of finding your place in a new community, mystery, and complicated relationships. I love a book that keeps me on the edge of my seat! I'd like for us to have this one read before watching the new series together that just aired on Hulu with Reese Witherspoon and Kerry Washington.
Rabbi Leah: "As a Driven Leaf" by Milton Steinberg (1939)
"As a Driven Leaf" is a stunning historical novel about Elisha ben Abuya, a great sage of the Talmud living in second century Palestine, who is known as "the heretic." Elisha struggles to find his way holding multiple identities, the pull between Rabbinic and Hellenistic culture and thought, between faith and reason. I first read this book when I was in college, feeling the same pulls between faith and reason, between Jewish and secular culture – sometimes clashing and other times fitting so beautifully and perfectly together. Reading this book, we'll learn some of the greatest tales of the Talmud and our tradition and explore what Elisha's tensions might mean for us today.
Noa: My Russian Grandmother and her American Vacuum Cleaner: A family Memoir by Meir Shalev (2009)
Have you ever felt that you were born in the wrong time? I love to read History and imagine myself in those times. I have always wondered what it would be like to have lived in the early pre-Israel period. How would I have fared as a "Chalutza"? I chose this book to escape the craziness outside and examine Israel through the lens of History!
Noa: Missing Kissinger by Etgar Keret (1994)
I love short stories and Etgar Keret is a genius of the written word. This book has been on my bucket list for a very long time and now is the perfect time to tackle it! Each week we we'll have a whole new world to explore and a whole new adventure to escape to.
Navah: "If All the Seas Were Ink" by Ilana Kurshan (2017)
While this book is a memoir of learning the 7 1/2 year daf yomi (daily page) cycle of the Talmud, it's really about moving through transition and change and finding ways to ground ourselves while doing so. Kurshan's writing style is both astoundingly brilliant and somehow completely relatable. Whether you're currently learning daf yomi or still aren't quite sure what the Talmud's about, I promise you will connect with this book.
Each book club will be limited to 10 people and will meet weekly for 5 weeks. The staff leading your book club will reach out to you and your group to schedule the weekly meetings.
Book club sign ups have now closed, but if you'd still like to participate email Rabbi Leah at leah@hillel.columbia.edu.