Book Club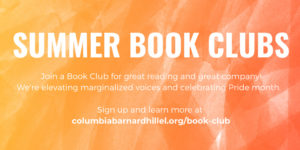 Book Clubs are back for the summer! We're elevating marginalized voices and celebrating Pride month.  Each Book Club will be led by a Hillel staff member and will be limited to 10 people.  Book Clubs will meet once or a few times, and the staff leading your Book Club will reach out to you and your group to schedule.  For questions or more info, email Rabbi Leah at leah@hillel.columbia.edu.  Book Club registration closes June 21, 2020.  Sign up below!
Avigail: Such a Fun Age by Kiley Reid (2019)
Kiley Reid's first novel follows a young black nanny for a seemingly "woke" family, the story opens up with the nanny being accused of kidnapping the little white girl she nannys for. The book examines privilege and race through a coming of age story.
Rabbi Leah: Becoming Eve by Abby Stein (2019)
Columbia alumna Abby Stein grew up in the Hasidic enclave of Brooklyn, and her powerful memoir follows her journey from an ultra-orthodox rabbi to a transgender woman.  "Becoming Eve" explores biology, culture, faith, and identity, and how far you will go to become the person you are meant to be.
Navah: Me & White Supremacy by Layla F. Saad (2020)
Layla Saad is a globally respected writer, speaker, and podcast host on the topics of race, identity, leadership, personal transformation and social change. Me & White Supremacy began as a series of writing prompts on instagram, and grew into a workbook which leads readers through a journey of understanding their white privilege and unconscious participation in white supremacy. The book includes historical and cultural contexts, moving stories and anecdotes, and expanded definitions, examples, and further resources.
Navah: Homegoing by Yaa Gyasi (2016)
Homegoing is an historical fiction novel by Yaa Gyasi. Each chapter in the novel follows another generation of the descendants of an Asante woman, starting with her two daughters, who are separated by circumstance: one marries the British governor in charge of Cape Coast Castle, while the other is sold into enslavement. The book deals with tribalism, colonialism, nationalism, racism, cultural development, and complex family ties. It's also the best book I've read over the past 2 years, hands down.
Noa: #IsraeliJudaism: Portrait of a Cultural Revolution by Shmuel Rosner and Camil Fuchs
We might believe that Israeli Jews and American Jews are one people, it is often the case that we realize that not only are they 2 very different people, but their language isn't even the same. Not their spoken language – but their JEWISH language. Explore the "New Israeli Jew", what it means, and possibly acquire a better vocabulary to differentiate our similarities and differences.
Noa: The Prime Minsters by Yehuda Avner (2010)
Explore the history of Israel and the Middle East through the eyes and stories of the world figures that shaped the destiny of this region. Acquire intimate insight into the pivotal moments in history through the lens of those who needed to make life changing decisions when it counted the most.
Shana: The Farm by Joanne Ramos (2019)
Golden Oaks, aka "the farm," is an idyllic estate where women (mostly women of color and immigrants) come to enjoy their pregnancies as surrogates for the wealthy (mostly white) women who have hired them. The Farm explores themes related to class, motherhood, gender, immigration, race, money, and family. Reading this fictional novel feels both dystopian – this could never really happen – and entirely real and terrifyingly possible.