The Grad Network
Welcome to
The Grad Network: Powered by Columbia Barnard Hillel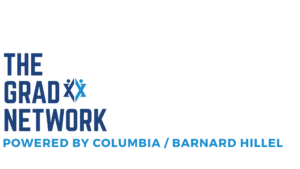 The Grad Network is the new hub for Jewish graduate student life at Columbia. Join us for campus-based and city-wide events including holiday celebrations, networking, Jewish learning, social gatherings, and more! Together we will explore the tremendous variety of Jewish life on campus and throughout New York City.
Let's grab coffee! Reach out to connect with Amanda
929.413.9572 / amanda@hillel.columbia.edu
Join our Facebook group for updates on events
Click here to sign up for our newsletter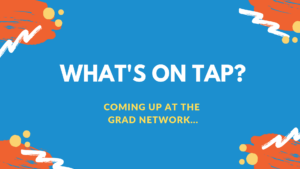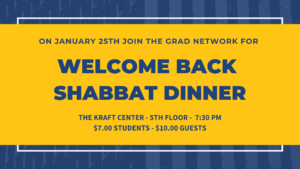 **This event is 21+**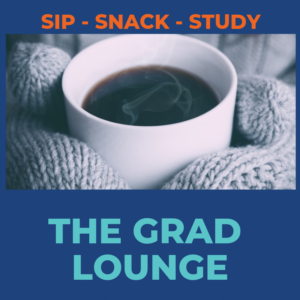 GRAD LOUNGE IS BACK!
MONDAYS 2:00-5:00 & WEDNESDAYS 1:30-4:30
DROP BY FOR WARM DRINKS, SNACKS, AND STUDY TIME
WITH OTHER GRAD STUDENTS.
LOCATED IN BISHOP AT THE KRAFT CENTER
**606 W. 115 ST, 2ND FLOOR AT THE BACK**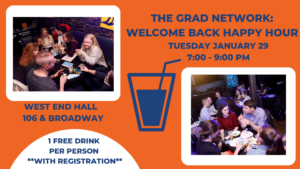 JOIN THE GRAD NETWORK FOR THE FIRST HAPPY HOUR OF THE SEMESTER! TAKE A BREAK FROM CLASS TO MEET STUDENTS FROM DIFFERENT GRADUATE PROGRAMS AT COLUMBIA. RSVP TO CLAIM YOUR FREE DRINK TICKET!
**RSVP REQUIRED TO CLAIM FREE DRINK TICKET – CLICK HERE! **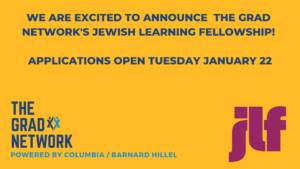 The Jewish Learning Fellowship (JLF) is a 10-week experiential, conversational seminar for students looking to deepen their understanding of Judaism on their own terms.  JLF meets once a week for 10 weeks for an hour and a half. Fellows will earn a $250 stipend at the end of the semester. 
**Click here to indicate your interest and availability**
We will contact you once applications open.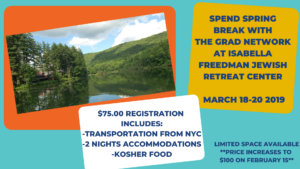 The Grad Network will be taking a break from the city and heading to Isabella Freedman Jewish Retreat Center March 18-20, 2019. We will be exploring nature, relaxing, learning from and with each other.  For more information please reach out to Amanda.
There are limited spaces available.
The retreat cost is $400+ per person, but it is being generously subsidized by Columbia/Barnard Hillel. The early bird fee is $75.00. On February 15th the price will increase to $100.00. Cost should not be a barrier to participation.
Click here to fill out the registration form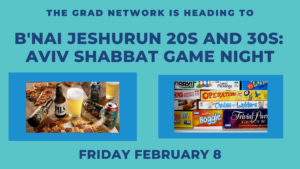 THE GRAD NETWORK IS JOINING B'NAI JESHURUN 2OS AND 30S FOR A PIZZA, BEER, AND BOARD GAME SHABBAT!
SERVICES: 6:15 PM   DINNER: 7:30.7:45
THIS EVENT IS FREE, BUT ADVANCE REGISTRATION IS REQUIRED.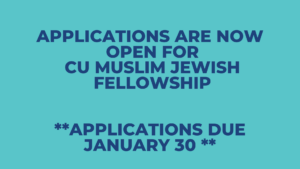 CLICK HERE TO APPLY & FOR MORE INFORMATION!