The Kraft Center for Jewish Student Life, Columbia/Barnard Hillel, Announces Jonathan Lavine and Family's $2.5 Million Endowment Gift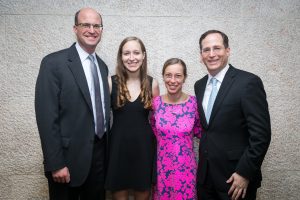 Endowment gift will name the Executive Director position in honor of the Lavine family
May 29, 2018
NEW YORK – The Robert K. Kraft Center for Jewish Student Life, Columbia/Barnard Hillel, announced today a $2.5 million endowment gift from Jonathan (Columbia College '88) and Jeannie Lavine and family.  In appreciation of the family's generous support of Jewish life at Columbia University, Columbia/Barnard Hillel's Executive Director position will now be named the Lavine Family Executive Director.
The gift was announced this evening by Robert K. Kraft, Columbia College '63, at Columbia/Barnard Hillel's Annual Seixas Award Dinner.  Jonathan Lavine is the Co-Managing Partner of Bain Capital and the incoming Co-Chair of the Trustees of Columbia University.  He was recently presented with the 70th Alexander Hamilton Medal, the highest honor awarded to a member of the Columbia College community for distinguished service to the College and accomplishment in any field of endeavor.
Jonathan and Jeannie are the parents of Allie, Columbia College '16, and Emily, Columbia College '18.  The Lavines have been involved in many aspects of Columbia/Barnard Hillel's work.  Jonathan was awarded Columbia/Barnard Hillel's Seixas Award in 2015, in recognition of his support of Jewish life on Columbia's campus.  The family has generously supported the work of Columbia/Barnard Hillel for years.
"Our family appreciates all that the Kraft Center for Jewish Student Life does for Columbia University," said Jonathan Lavine.  "Columbia/Barnard Hillel impacts more than 1,000 students every year, including Emily and Allie during their time on campus.  Jeannie and I are grateful that we are in a position to give back, and support Hillel's great work."
"I am proud to have Jonathan and Jeannie support the Kraft Center for Jewish Student Life's work in such a significant way," said Robert Kraft, Chairman and CEO of The Kraft Group, owner of the New England Patriots, and Columbia College Class of '63.  "This commitment is a major boost to the endowment, which will support Jewish life at Columbia University for future generations."
"Jonathan has done so much for Columbia as a loyal and generous alumnus and a dedicated Trustee," said University President Lee C. Bollinger.  "It is our great fortune that the ways in which the Lavine family supports the University continue to expand, whether through Jonathan taking on the role as our next Trustee co-chair, or by strengthening Jewish life on our campus, as he and Jeannie are doing with this latest gift.  We are grateful for the generosity and support of the entire Lavine family."
Brian Cohen, Lavine Family Executive Director of Columbia/Barnard Hillel, shared how meaningful this naming is. "Jonathan, Jeannie, Allie, and Emily are important partners in our work.  It is incredibly meaningful for the Executive Director position to be named in honor of such a wonderful family.  With this gift, the Lavines are making a tremendous investment in the future of Jewish life at Columbia University.  Their support will ensure we have the resources to reach more students in diverse ways that are meaningful to them."
Stefanie Katz Rothman, Columbia College '88 and President of the Columbia/Barnard Hillel Board of Directors shared how the Lavines helped her to connect to Hillel.  "Jonathan and Jeannie are inspirational leaders and philanthropists as well as very dear friends and I am so appreciative of their support.  Jonathan encouraged me to get involved with Columbia/Barnard Hillel. We did not have a Hillel on campus when he and I were students. I am grateful, as an alumna, that I am able to be involved with this vital organization and help ensure that all of our Jewish students have access to educational, religious and social programming."
Columbia/Barnard Hillel reaches more than 1,000 students annually.  It is the catalyst for students to explore and consciously define their Jewish identity.  Hillel helps students, regardless of their origin or destination, find their own interpretation of Jewish values, culture, community and religion by empowering them to explore, learn, and grow intellectually, spiritually and socially.  Columbia/Barnard Hillel is based out of the Robert K Kraft Center for Jewish Student Life.